Library
Our library includes Macmillan brochures and books on diagnosis, treatment, and coping with cancer.
Welcome from the Librarians!
Welcome to the ESCA library, which is open and available for all: members and their families, volunteers, peer supporters, counsellors, and therapists,  to name a few. If you need any help finding information please contact us at  library@cancersupport.ch.
We are available to help you.
Irene Bertrand and Sandra Oakley,  ESCA librarians
Our Catalogue
We have a collection of some 300 books in English at the Drop-in Centre to cater to the needs and interests of those touched by cancer. Books cover a variety of subjects and are arranged on the shelves by these broad subject categories :
General Health
Types of Cancer
Nutrition, Holistic and Complementary Therapies
Self-help
Coping with Cancer
Care and Families
Grieving and Bereavement
Life Journeys
Spirituality
There are two lists to help you find individual titles: one is arranged by the subject and the other by the author.
We also have books for children.
There is a small collection of DVDs.
Come to the library to browse and borrow any one of them (see library procedures). Please feel free to recommend any titles you would like added to the library. If you are interested in reviewing any of these titles, please contact either Irene Bertrand or Sandra Oakley at library@cancersupport.ch.
Our Resources
We have a collection of Macmillan Cancer Support brochures. This UK Charity develops publications specifically for people with cancer and their carers.
We've also compiled an online list of reliable and up-to-date cancer information websites for patients, families and carers that can be access through our resources web page.
Library Procedures
Books may be borrowed for an initial period of six weeks. On request, loans may be renewed for a further period of six weeks by sending an email to library@cancersupport.ch. Four books and/or Macmillan brochures may be borrowed at one time.
Borrowing Library Books
(1) Take the library card from the back of the book and enter name, date and telephone number.
(2) File the card in alphabetical order by name of author in the small file box marked LIBRARY BOOKS on loan.
Returning Library Books
(1) Take the library card from the small file box and cross out the name.
Return the card to the back of the book.
(2) Shelve the book according to the catalogue number or, if unsure, leave it on the table to be processed and shelved by one of the librarians.
---
New Books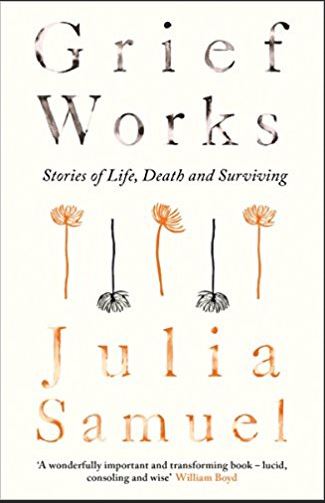 Grief Works: Stories of Life, Death and Survival
Julia Samuel
Death affects us all. Yet it is still the last taboo in our society, and grief is still profoundly misunderstood. This book has been universally well-reviewed and was a Sunday Times Top 10 Bestseller.
"In Grief Works we hear stories from those who have experienced great love and great loss - and survived. Stories that explain how grief unmasks our greatest fears, strips away our layers of protection and reveals our innermost selves. Julia Samuel, a grief psychotherapist, has spent twenty-five years working with the bereaved and understanding the full repercussions of loss. This deeply affecting book is full of psychological insights on how grief, if approached correctly, can heal us. Through elegant, moving stories, we learn how we can stop feeling awkward and uncertain about death, and not shy away from talking honestly with family and friends. This extraordinary book shows us how to live and learn from great loss."
life journeys [8 SAM]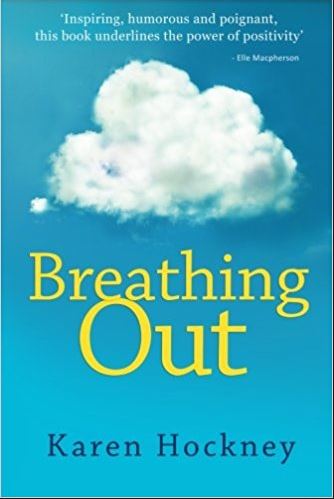 Breathing Out
Karen Hockney
An entertainment journalist shares her journey of discovery to better health after breast cancer
"You've got cancer" are not words you expect to hear when you're a 40-something marathon runner who has never even smoked a cigarette. Karen Hockney's extraordinary battle with breast cancer was different in two ways. First, as an Englishwoman living in the south of France, a stone's throw from Cannes, she suddenly had to contend with language barriers and an unfamiliar health system (albeit an extraordinarily efficient one). Secondly, as a writer for entertainment magazines, her job was jet-setting around the world to meet celebrities. How could she cope with facing them having lost her hair and battling nausea and exhaustion? How would they react, and was it really possible to go from cancer diagnosis to Cannes Film Festival in the space of a few weeks? A memoir with a difference, Breathing Out is full of practical advice, meticulous research, and knowledge garnered from Karen's journey, punctuated by hope, positivity, and a smattering of bleak humour. This is a really informative and inspiring read, written by someone who has a rather extraordinary life, but whose experience of breast cancer mirrors that of thousands of other women.
life journeys [9 HOC ]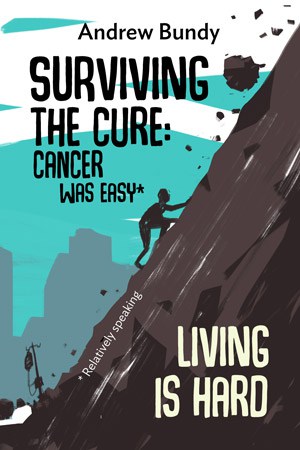 Surviving the Cure: Cancer Was Easy (relatively speaking) Living is Hard
Andrew Bundy
This is a raw, intensely honest and courageous story of a teenager struck by leukemia and shows the side of cancer which is rarely discussed - cancer treatments which cause years of emotional and physical trauma in his case. His dry sense of humour and writing ability make this an informative and emotional read. IB
life journeys [ 9 BUN ]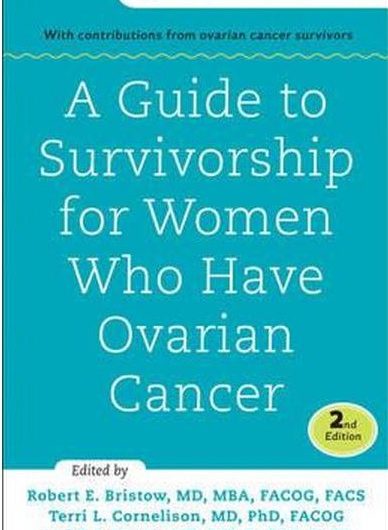 A Guide to Survivorship for Women Who Have Ovarian Cancer
Robert Bristow et al.
An updated and expanded 2nd edition, written by a group of highly respected experts in the field, including oncologists, nurse specialists and cancer survivors. It provides a wealth of information to ease the physical and emotional suffering of women who have ovarian cancer.
Not necessarily a book to read from beginning to end, but the clear chapter headings and detailed index will enable women dealing with this difficult diagnosis to find the information they are seeking easily and quickly. SAO
General cancer, diagnosis, surgery, treatment [ 2o BRI ]
How to Help Children Through a Parent's Serious Illness
Kathleen McCue
This is the second edition of a book already in the library and is considered the standard work in its field; a great resource with practical information sensitive to the needs of different age groups, family situations and types of illness. We recommend it for clients who are in this difficult situation. IB
Coping with cancer, care and families [ 6 MCC ]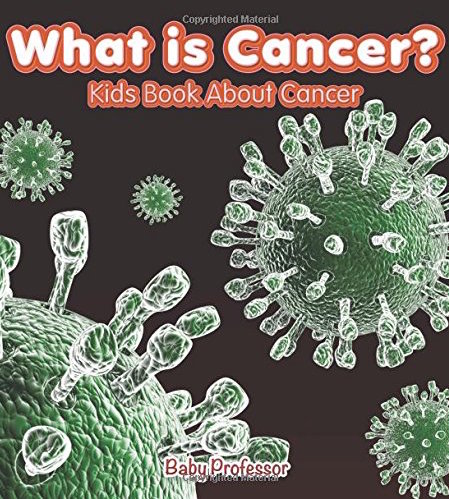 What is Cancer? Kids Book About Cancer
Baby Professor Series
Added to the children's collection, this book will appeal to children between 7 and 11 years, who are interested in knowing about the scientific background to cancer. It should probably be read by a parent first, so that its suitability for an individual child can be assessed and a decision as to whether it should be used by the parent and child together can be made. Some parents may find it unnecessarily graphic. SAO
Children [ C PRO ]
Facing Cancer as a Friend
Heather Erickson
How should you respond when someone you know tells you they have cancer? You don't have to feel helpless. Written by a wife who had to deal with her husband's cancer diagnosis, this easily readable book will help you find appropriate words in a situation which many people find difficult. It will show you how to use your gifts and strengths to support cancer patients and their families when they need it most. SAO
Coping with cancer, care and families [ 6 ERI ]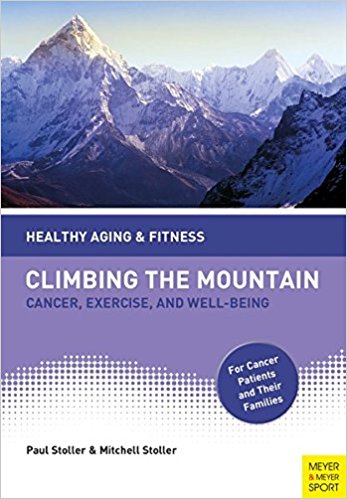 Climbing the Mountain: Cancer Exercise and Well-being
Paul and Mitchell Stoller
The author recounts the cancer journey of one man, stressing the importance of preparation (research), exercise and activity as well as a variety of social supports in order to live as well as possible. It is an excellent source of practical information and advice to ease the physical and psychological burden of the cancer experience. IB
Coping with cancer, care and families [ 6 STO ]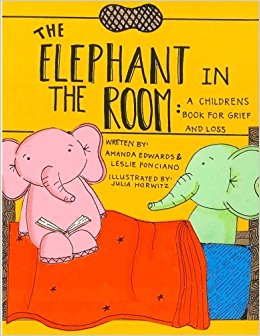 The Elephant in the Room: A children's book for grief and loss
Amanda Edwards
This a children's storybook with delightful illustrations, suitable to be shared with very young children coping with bereavement. It reveals the powerful emotions which may be experienced by young children experiencing any kind of loss. It lends itself to repeated reading, allowing the child to initiate discussion or questioning.
children's section [ C EDW ]
reviewed by Sandra Oakley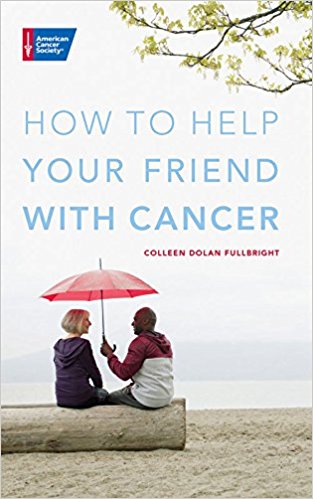 How to help your friend with cancer
Colleen Dolan Fullbright
This book provides an excellent resource for supporting a friend through her cancer experience, with suggestions for expressing concern and helping in practical ways, from diagnosis, through treatment and when active treatment is over.
One reviewer wrote: "An extremely well-written and useful guide for helping friends experiencing cancer. Using examples for her own life and from her extensive research, Fullbright offers readers practical advice, knowledge and inspiration for bringing the strength of friendship to one of life's toughest situations."
[ 6 FUL ]
reviewed by Sandra Oakley
I Have Cancer, Now What? 12 things you, your spouse and your family must know in your battle with cancer
Carson and Cindy Boss
Husband and wife Carson and Cindy Boss, each write a chapter from both points of view: that of a wife with a cancer diagnosis and that of a husband searching for the best ways to support his wife. The insights they provide will help any family to cope with the stress and anxiety caused by the challenges of serious illness.
Coping with Cancer: care and families [ 6 BOS ]
reviewed by Sandra Oakley
The Last Lecture: Lessons in Living
Randy Pausch
Randy Pausch was a computer science professor at Carnegie Mellon University who also worked as a virtual-reality world consultant for Disney. His university has a tradition of inviting its professors to give a last lecture when they're leaving, as a symbolic chance to address their students for the last time. Instead of speaking only about his profession, he also used the occasion to speak about a lot of small events and memories that made him appreciate life, as he knew that at the age of 47 he only had a few months left to live, due to pancreatic cancer.
As a father of three small children, he dedicated these last efforts to provide wonderful memories to his family.
His words are full of optimism, hope and humour as well as good advice on how to make the most of life throughout one's life.
Life Journeys [ 9 PAU ]
Reviewed by Irene Bertrand, ESCA librarian