Library
Our library includes Macmillan brochures and books on diagnosis, treatment, and coping with cancer.
New additions to the library:
Food and Nutrition
Beliveau R and Gringas D, Foods to fight cancer: What to eat to beat Cancer , [3 BEL]
This is a revised and updated edition of a popular book.
Bratton S and Iannotta J, The Meals to Heal Cookbook, [3 BRA]
Self-Help
Bourne N, The Fabulous Woman's Guide Through Cancer: A Lifestyle Guide to Help you Through,
[5 BOU]
Bailey A, One Step at a Time: Getting through Chemotherapy with Breast Cancer, [5 BAI]
Both of these self-help books contain a wealth of useful, practical information for cancer patients
and their families and friends.
If you would be interested in reviewing any of these titles, please contact either Irene Bertrand or
Sandra Oakley.
For the new year, we are adding a new subject category for books in the ESCA library called "Food for Thought" (category 10).
We will also start adding DVDs related to cancer: films such as Song for Marion, The Fault in Our Stars and Mum's List, a memoir-to-film adaptation about a man who, while caring for his two young children, attempts to fulfill the wishes of his wife who has passed away from cancer.
Please feel free to recommend any titles you would like added to the library.
Irene Bertrand and Sandra Oakley, ESCA librarians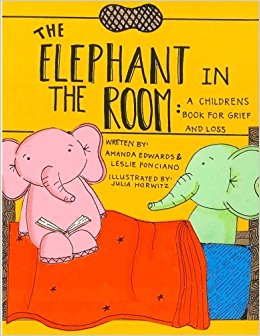 The Elephant in the Room: A children's book for grief and loss
Amanda Edwards
This a children's storybook with delightful illustrations, suitable to be shared with very young children coping with bereavement. It reveals the powerful emotions which may be experienced by young children experiencing any kind of loss. It lends itself to repeated reading, allowing the child to initiate discussion or questioning.
children's section [ C EDW ]
reviewed by Sandra Oakley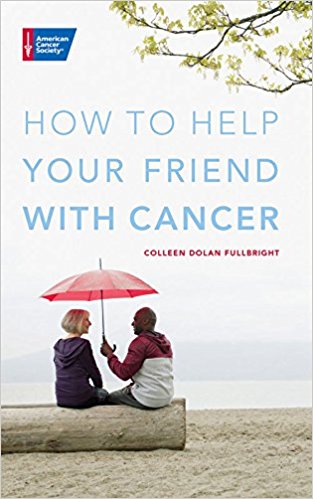 How to help your friend with cancer
Colleen Dolan Fullbright
This book provides an excellent resource for supporting a friend through her cancer experience, with suggestions for expressing concern and helping in practical ways, from diagnosis, through treatment and when active treatment is over.
One reviewer wrote: "An extremely well-written and useful guide for helping friends experiencing cancer. Using examples for her own life and from her extensive research, Fullbright offers readers practical advice, knowledge and inspiration for bringing the strength of friendship to one of life's toughest situations."
[ 6 FUL ]
reviewed by Sandra Oakley
I Have Cancer, Now What? 12 things you, your spouse and your family must know in your battle with cancer
Carson and Cindy Boss
Husband and wife Carson and Cindy Boss, each write a chapter from both points of view: that of a wife with a cancer diagnosis and that of a husband searching for the best ways to support his wife. The insights they provide will help any family to cope with the stress and anxiety caused by the challenges of serious illness.
Coping with Cancer: care and families [ 6 BOS ]
reviewed by Sandra Oakley
The Last Lecture: Lessons in Living
Randy Pausch
Randy Pausch was a computer science professor at Carnegie Mellon University who also worked as a virtual-reality world consultant for Disney. His university has a tradition of inviting its professors to give a last lecture when they're leaving, as a symbolic chance to address their students for the last time. Instead of speaking only about his profession, he also used the occasion to speak about a lot of small events and memories that made him appreciate life, as he knew that at the age of 47 he only had a few months left to live, due to pancreatic cancer.
As a father of three small children, he dedicated these last efforts to provide wonderful memories to his family.
His words are full of optimism, hope and humour as well as good advice on how to make the most of life throughout one's life.
Life Journeys [ 9 PAU ]
Reviewed by Irene Bertrand, ESCA librarian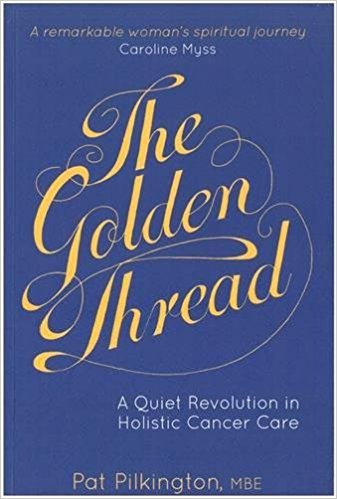 The Golden Thread: A Quiet Revolution in Holistic Cancer Care
Pat Pilkington
The author was co-founder of the Bristol Cancer Help Centre (now called the Penny Brohn Cancer Care), the first charity in the UK to offer a truly holistic approach to cancer care. The book describes the philosophy behind the work of the centre and how it came into being. It offers complementary therapies and spiritual healing that does not claim to cure but to sustain and restore balance in the face of extreme adversity.
Holistic and Complementary therapies [ 4 PIL ]
Getting Over the Bump in the Road : Helpful Hints for Cancer Patients and Caregivers
Nancy Johnston Toll
The simple and easily read story of the author's journey through breast cancer.
Coping with cancer [ 6 JOH ]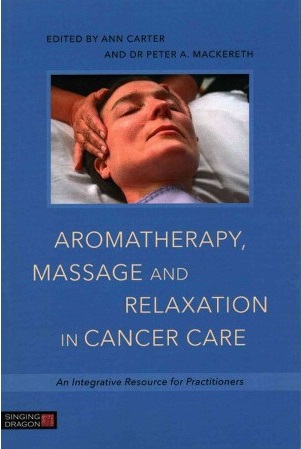 Aromatherapy, Massage and Relaxation in Cancer Care
Ann Carter and Peter A. Mackereth
These three treatments are the most commonly used therapies in cancer care, so this book gives an understanding of the valuable role of complementary therapists. Intended essentially for the practitioner, Aromatherapy, Massage and Relaxation in Cancer Care shows how complementary therapies can make a difference to the welfare of patients and contribute to integrated care.
Holistic and Complementary therapies [ 4 CAR ]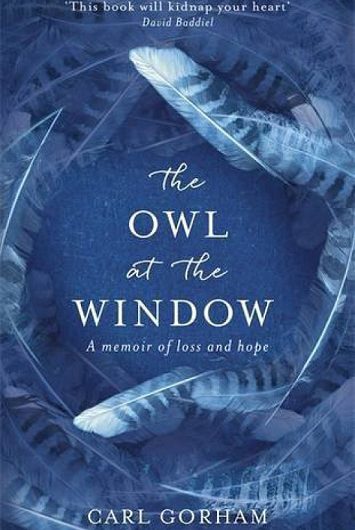 The Owl at the Window: A Memoir of loss and hope
Carl Gorham
Last month, in a UK newspaper, I came across an intriguing article written by Carl Gorham entitled "How a mummy made of cardboard brought new life to my daughter." This article is well worth reading in its own right, and it convinced me to order " The Owl in the Window" for the ESCA library.
In his beautifully expressive book, Carl Gorham writes a moving, uplifting and sometimes hilarious account of how he and his six-year-old daughter, Romy, rebuilt their lives as they grieved for Vikki, the beloved wife and mother taken from them much too soon. He worried that Romy "was bottling up her feelings after her mother died. But when she asked him to 'make' Mummy from cardboard boxes, it was to prove a breakthrough."
Carl writes poignantly about his worries as a single father with a young daughter, his attempts to help her express her grief, and his openness to her request to make a cardboard mummy, whatever misgivings he may have had at that moment. Suffice it to say that the cardboard mummy was just what Romy needed to manage her immense feelings of loss.
It is a wonderfully touching and uplifting book that will make the reader cry and laugh in equal measure.
Reviewed by Sandra Oakley
life journeys [ 9 GOR ]
When Breath Becomes Air
Paul Kalanithi
The reviewers of Dr. Paul Kalanithi's extraordinary book are unanimous: powerful and poignant; devastating and spectacular; life affirming; filled to the brim with joy, humour and meaning. Yet it is the words of the NY Times reviewer - "finishing this book and then forgetting about it is simply not an option"- that truly resonated with me.
Dr. Paul Kalanithi seemed to have it all. He was a gifted writer with a B.A. and M.A. in English literature, an M.A. from Cambridge and an MD from Yale. With multiple career offers, he was completing his residency in neurosurgery at Stanford when diagnosed with metastatic stage IV lung cancer. He turned to writing this book, which consists of two parts: Part I. "In Perfect Health I Begin"; and Part II: "Cease Not till Death."
In Part I, we follow the education and career path of a man who was a gifted doctor and writer, both of which he pursued with compassion and brilliance. Talking to a patient terrified of brain surgery, he calmly presented the options, meeting her "in a space where she was a person, instead of a problem to be solved." Elsewhere in the book, he comments that before operating on a patient's brain "I must first understand his mind: his identity, his values, what makes his life worth living and what devastation makes it reasonable to let that life end." How can one not be moved when Dr. Kalanithi puts forward: "the physician's duty is not to stave off death or return patients to their old lives but to take into our arms a patient and family whose lives have disintegrated and work until they can stand back up and face and make sense of their own existence."
Part I ends and Part II begins without transition. Paul and Lucy are lying in a hospital bed, crying, with the CT scan images still glowing on the computer screen. Yet Part II is not as sad as might be expected. It is full of hope and warm family moments. It is authentic in addressing the important decisions to be made while Paul is still alive.
Dr. Kalanithi died at age 37 before completing his book and the extremely moving epilogue is written by his wife, Dr. Lucy Kalanithi. If you choose to read this book, and remain composed through Parts I and II, Lucy's epilogue is the ultimate challenge. Do not even try to hold back the tears. Just rejoice in the fact that you have come through an exceptional autobiographical and literary experience that, while heartbreaking, is heartwarming and full of life.
Reviewed by David Freedman
life journeys [ 9 KAL ]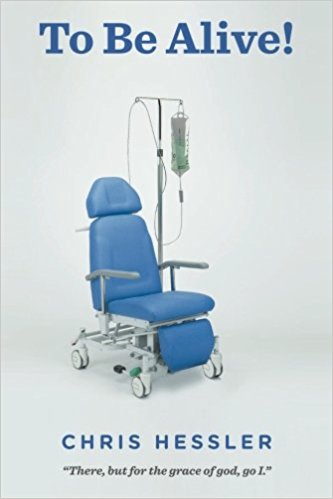 To Be Alive!
Chris Hessler
This is an account of how a young man fought – and won – the battle against brain cancer. In his forties, Chris had everything: a top education at Dartmouth, a great start to a promising career, a loving wife with whom he founded a successful business, five children, a dog and two cats, plus inspiring and supportive parents. Oh yes, and part of his childhood and youth was spent in that lovely city, Geneva!
"I had never really had anything bad happen to me. I often wondered if one could live a life devoid of suffering."
In the book he describes the shock of diagnosis, the determination to fight, and the long sometimes depressing journey through treatment. He pays heartfelt tribute to his oncologist and the team at the Massachusetts General Hospital for their dedication and determination, trying new treatments as he improved, relapsed and improved again. At one point, he reckoned he had a near-death experience and a feeling that, instead of being so sick and confined to the hospital, "maybe I'd rather be dead." But as he began to heal he put together what he called a Healing Dream Team : neural and orthopedic physiotherapists, a holistic chiropractor, a homeopathic physician and nutritionist, and a "soul reader" or life coach.
The book includes testimonies by his parents, wife, two children, and his own conclusion, which most cancer survivors identify with: "I think I've learned about compassion, gratitude and smelling the roses. I've learned to not sweat the small stuff and to not worry about things I can't control. I've learned a lot about energy management and balance and the importance of nutrition, exercise and sleep. I decided to rid myself of any negative energy in my life. All in all, I really like the new and improved Chris."
Reviewed by Sally Alderson
life journeys [ 9 HES ]