Library
Our library includes Macmillan brochures and books on diagnosis, treatment, and coping with cancer.
Welcome from the Librarians!
Welcome to the ESCA library, which is open and available for all: members and their families, volunteers, peer supporters, counsellors, and therapists,  to name a few. If you need any help finding information please contact us at  library@cancersupport.ch.
We are available to help you.
Irene Bertrand and Sandra Oakley,  ESCA librarians
Our Catalogue
We have a collection of some 300 books in English at the Drop-in Centre to cater to the needs and interests of those touched by cancer. Books cover a variety of subjects and are arranged on the shelves by these broad subject categories :
General Health
Types of Cancer
Nutrition, Holistic and Complementary Therapies
Self-help
Coping with Cancer
Care and Families
Grieving and Bereavement
Life Journeys
Spirituality
There are two lists to help you find individual titles: one is arranged by the subject and the other by the author.
We also have books for children.
There is a small collection of DVDs.
Come to the library to browse and borrow any one of them (see library procedures). Please feel free to recommend any titles you would like added to the library. If you are interested in reviewing any of these titles, please contact either Irene Bertrand or Sandra Oakley at library@cancersupport.ch.
Our Resources
We have a collection of Macmillan Cancer Support brochures. This UK Charity develops publications specifically for people with cancer and their carers.
We've also compiled an online list of reliable and up-to-date cancer information websites for patients, families and carers that can be access through our resources web page.
Library Procedures
Books may be borrowed for an initial period of six weeks. On request, loans may be renewed for a further period of six weeks by sending an email to library@cancersupport.ch. Four books and/or Macmillan brochures may be borrowed at one time.
Borrowing Library Books
(1) Take the library card from the back of the book and enter name, date and telephone number.
(2) File the card in alphabetical order by name of author in the small file box marked LIBRARY BOOKS on loan.
Returning Library Books
(1) Take the library card from the small file box and cross out the name.
Return the card to the back of the book.
(2) Shelve the book according to the catalogue number or, if unsure, leave it on the table to be processed and shelved by one of the librarians.
---
New Books
Oscar and the Lady in Pink
Eric-Emmanuel Schmitt
This is a lovely story about a young boy in hospital with terminal cancer and an old lady, Granny Rose, who comes to visit him. The book is written as ten letters addressed by Oscar to God. It is sensitive, funny and heartbreaking. A wonderful little book.
food for thought [ 10 SCH ]
A Mighty Boy
Sarah Pullen
A mother's journey through grief, this is also a book about a 10-year-old boy diagnosed with an aggressive brain tumour. With three young brothers, the author recounts the family's difficult journey but she also deals with general grieving emotions, on death and dying, and rituals that are taboo in our modern society.
life journeys [ 9 PUL ]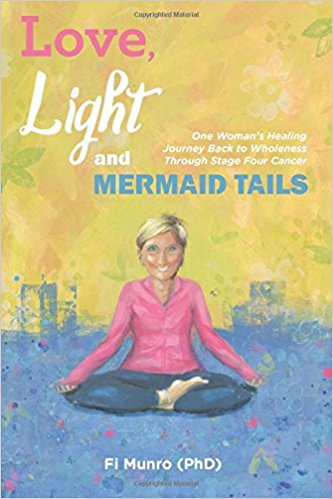 Love, Light and Mermaid Tails
Fi Munro
This Scottish author is a health researcher and public speaker who is a strong believer in holistic health. She shares her journey through stage four ovarian cancer at the age of 32 with brutal honesty and forthright style. Her surgery and following treatments were indeed harrowing but she is totally inspirational in her positive approach to all aspects of self care and life style. She always includes her medical team in her decisions to ensure she is getting the best possible solutions for her recovery as a cancer "warrior."
life journeys [ 9 MUN ]
The Immortal Life of Henrietta Lacks
Rebecca Skloot
This is a fascinating and unique story of a poor American black woman living in southern USA in the 1950s whose cancer cells - taken without her knowledge - became the first "immortal" human cells grown in culture and are still alive today. Called HeLa cells they have helped led advances by scientists in developing a polio vaccine, in vitro fertilization, gene mapping etc. They have been bought and sold by the billions and launched a multi-million dollar industry, yet her family knew nothing about it until 20 years after her death and have never seen any benefits. Their story is all connected to the dark history of experimentation on African Americans in the early 20th century and the birth of bioethics. Absolutely fascinating.
general cancer [2 SKL ]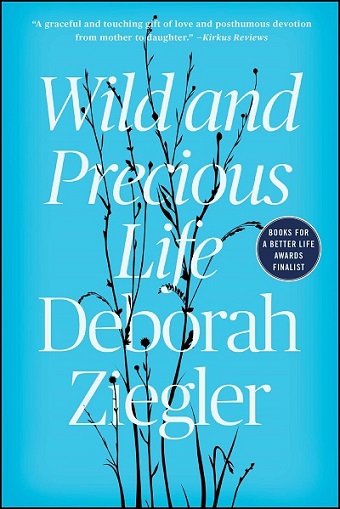 Wild and Precious Life
Deborah Ziegler
The author's 29-year-old daughter was diagnosed with terminal brain cancer and this was the difficult journey faced by her and her family until Brittany took her own life, as planned, less than a year later. The book is about a mother-daughter relationship, which was fraught and intense even during her daughter's younger years. But both women's bravery throughout is inspirational as they experienced impending death and a mother's worst nightmare.
life journeys [9 ZIE]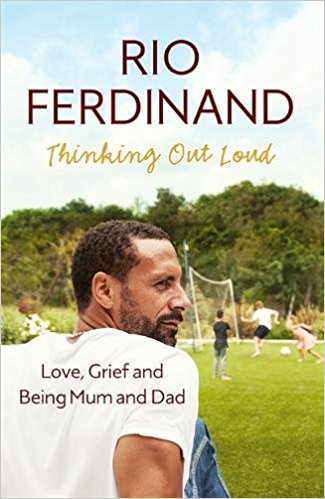 Thinking Out Loud : Love, Grief and Being Mum and Dad
Rio Ferdinand
This is the emotional journey of a well-known footballer whose wife died of cancer at the age of 34, leaving him with three young children. He recounts with honesty and openness his difficult childhood and his brilliant career as a football player, neither of which helped him cope with his tragic loss and that of his children. With the help of a support group of men in similar circumstances, he becomes involved in the production of a TV documentary on the grieving process, which was well received. This book is an essential read for other men struggling with a personal loss.
life journeys [9 FER]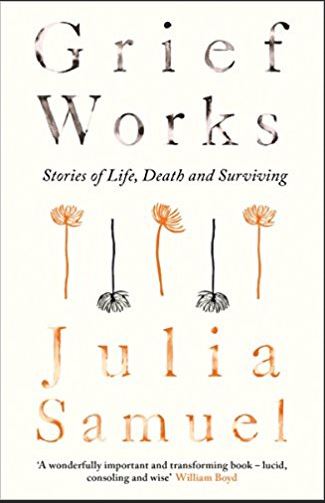 Grief Works: Stories of Life, Death and Survival
Julia Samuel
Death affects us all. Yet it is still the last taboo in our society, and grief is still profoundly misunderstood. This book has been universally well-reviewed and was a Sunday Times Top 10 Bestseller.
"In Grief Works we hear stories from those who have experienced great love and great loss - and survived. Stories that explain how grief unmasks our greatest fears, strips away our layers of protection and reveals our innermost selves. Julia Samuel, a grief psychotherapist, has spent twenty-five years working with the bereaved and understanding the full repercussions of loss. This deeply affecting book is full of psychological insights on how grief, if approached correctly, can heal us. Through elegant, moving stories, we learn how we can stop feeling awkward and uncertain about death, and not shy away from talking honestly with family and friends. This extraordinary book shows us how to live and learn from great loss."
life journeys [8 SAM]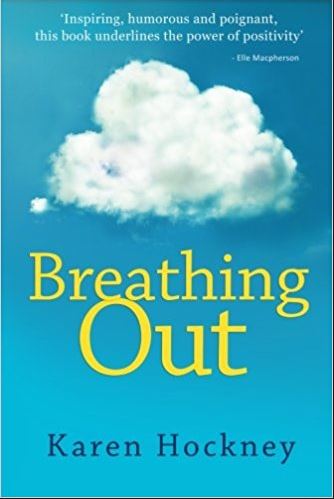 Breathing Out
Karen Hockney
An entertainment journalist shares her journey of discovery to better health after breast cancer
"You've got cancer" are not words you expect to hear when you're a 40-something marathon runner who has never even smoked a cigarette. Karen Hockney's extraordinary battle with breast cancer was different in two ways. First, as an Englishwoman living in the south of France, a stone's throw from Cannes, she suddenly had to contend with language barriers and an unfamiliar health system (albeit an extraordinarily efficient one). Secondly, as a writer for entertainment magazines, her job was jet-setting around the world to meet celebrities. How could she cope with facing them having lost her hair and battling nausea and exhaustion? How would they react, and was it really possible to go from cancer diagnosis to Cannes Film Festival in the space of a few weeks? A memoir with a difference, Breathing Out is full of practical advice, meticulous research, and knowledge garnered from Karen's journey, punctuated by hope, positivity, and a smattering of bleak humour. This is a really informative and inspiring read, written by someone who has a rather extraordinary life, but whose experience of breast cancer mirrors that of thousands of other women.
life journeys [9 HOC ]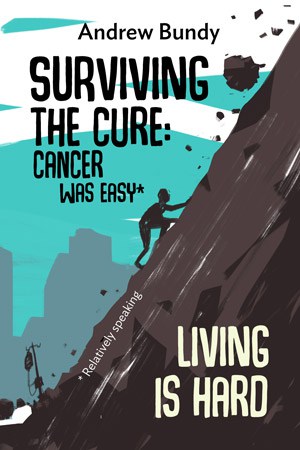 Surviving the Cure: Cancer Was Easy (relatively speaking) Living is Hard
Andrew Bundy
This is a raw, intensely honest and courageous story of a teenager struck by leukemia and shows the side of cancer which is rarely discussed - cancer treatments which cause years of emotional and physical trauma in his case. His dry sense of humour and writing ability make this an informative and emotional read. IB
life journeys [ 9 BUN ]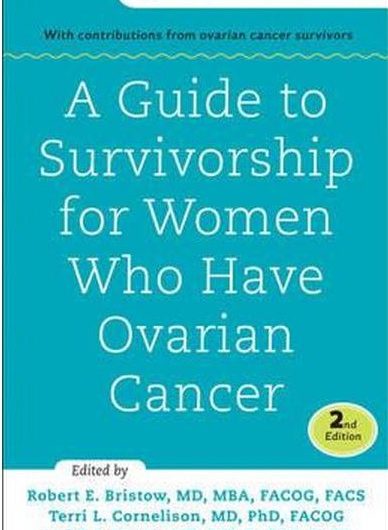 A Guide to Survivorship for Women Who Have Ovarian Cancer
Robert Bristow et al.
An updated and expanded 2nd edition, written by a group of highly respected experts in the field, including oncologists, nurse specialists and cancer survivors. It provides a wealth of information to ease the physical and emotional suffering of women who have ovarian cancer.
Not necessarily a book to read from beginning to end, but the clear chapter headings and detailed index will enable women dealing with this difficult diagnosis to find the information they are seeking easily and quickly. SAO
General cancer, diagnosis, surgery, treatment [ 2o BRI ]