ESCA Rock Against Cancer
"Dangerously RED" FUNdraiser
Dinner and Dancing on the eve of  Valentine's Day
Wednesday 13 February
ESCA Rock Against Cancer Dinner Dance
Playfully themed "Dangerously Red"
Be Bold, be Chic or be Casual, but be Red-y for Dancing to live music
with the CRAZY CANADIANS at the Chateau de Coppet
Wednesday 13 February 2019

Since 2015, at minimum twice a year, ESCA member Jodie Cole and Anne Duke have been graciously organizing "Rock Against Cancer" FUN fundraisers in support of ESCA CancerSupport. This year ESCA has been invited to help out, and we've assembled a delightful team of volunteers to lend their hands and their experience to make it yet another fundraising success!
Join us if you're one person, a couple, or more! The more the merrier!
It's a friendly easy-going group of internationals, many of whom come back each year to "Rock Against Cancer". The music of the CRAZY CANADIANS, "Geneva's premier rock 'n' roll band…bringing the FUN to the dance floor"  makes for an entertaining winter evening of dancing and dinner for 65CHF per person.  Bring your friends!  We can reserve tables for groups of 6, 8, 10.
Scroll down to reserve your places now!  65 CHF per person and payable in advance by bank transfer.  Limited places.
Wednesday 13 February from 7pm until midnight
Chateau de Coppet – scroll down for a situation map
Registration and apero begin at 7pm
Buffet dinner and dancing all evening until midnight
Cash bar
Consider dressing for the theme "Dangerously Red" – vote for the best dressed!
Prizes for the best-dressed single and best-dressed couple!
Tombola tickets will be on sale for many outstanding "Tombolux" prizes
Questions:  Contact Melania Quinn, Fundraising and Events Manager:  Melania@CancerSupport.ch
ALL proceeds go to fund ESCA CancerSupport
Scroll down to reserve your places now!
It's a FUN Fundraiser for ESCA CancerSupport
It's with thanks to your support that we can provide free of charge professional emotional support and trained practical help, in English, to cancer patients and their families during all stages of illness and recovery. Your support also helps to provide a confidential atmosphere for people to talk, be active, and support others with similar conditions.  The Event Team are volunteering their time and services to help make "ESCA Rock Against Cancer" a profitable FUNdraiser.  Thank you for your participation!
If you cannot attend ESCA Rock Against Cancer and would like to make tax-deductible contribution click here.  We'd be grateful.  Certain levels of corporate contributions are recognized at the event itself.  Please contact Melania for details  melania@cancersupport.ch
ESCA CancerSupport is recognised as a charitable association under Swiss Law
---
Here's a taste of some of the "Tombolux" prizes – with more to come:

Travel accessory gift bag including a Voucher for CHF 250 off any Holiday or Travel booked with Go Supreme Ltd.
Travelling Gourmets Recipe Collection offered by AIWC Geneva
Champagne Laurent-Perrier Brut (in gift box with 2 glasses) offered by ESCA volunteer Anna Stefanizien
---
We are grateful for the artistic vision and services of:
Photography  EMO PHOTO – Elisabeth Fransdonk  – Emotion in Photography – will be present to document the festive night out. Read more about Elisabeth
Graphic support  Lynn Hegi mailcentral.hegi@gmail.com
---
Scroll down to reserve your places now!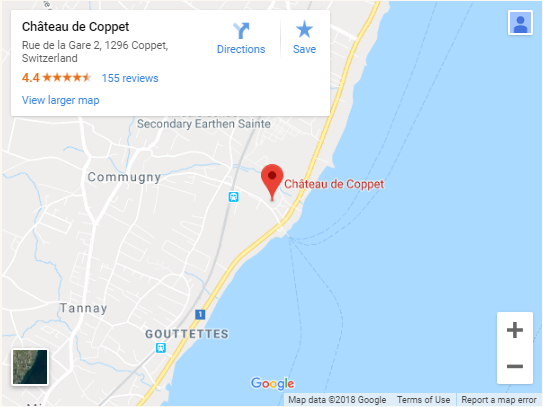 Chateau de Coppet, Rue de la Gare 2, 1296 Coppet, Switzerland
Entrance to the Cellars at Coppet's Castle, is on Rue de Greny along the side of the estate.
Private Parking can welcome 100 cars in front of the castle on Rue de la Gare, and adjacent to it, you'll find Coppet's train station parking, also able to welcome another 100 cars.
By car, plan your trip with Google Maps