Feeling the heat of summer? Need some colour in your life?
Support Jodie's

BUBBLES & SHAVE

DAY
and  help raise funds for ESCA CancerSupport!
Yep, 5th round with cancer and even though my hair fell out before the event, happy to re-shave, colour or do something daring in order to raise some funds! Any suggestions???!!
My wonderful friends below have also agreed to do something daring on the day and need your support and encouragement. Donate below and let's raise funds to help those affected by cancer!
Sunday, 13 September 2020
14h00 – 17h00
For more details and to RSVP: Jodie
If you would like to join us on the day as we colour and shave, please send me your attendance so we can ensure that we are holding this event in the safest manner possible and are following public health recommendations. There will be drinks and nibbles as well as LIVE music! The Defectors, like so many, have been affected by cancer and are generously donating their entertainment services to support this cause.
This event is generously hosted by Jodie Cole and will be held outside. She asks all attending to please respect social distancing rules and wear a mask.
How can you help? Donate below to Jodie and her friends. Be sure to note their name in the COMMENTS Box! Thank you!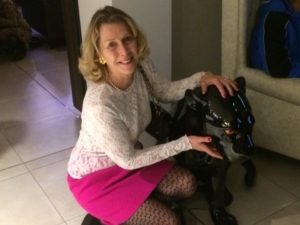 Anne Duke
Come and help me raise some cash for ESCA CancerSupport, donate some money noting my name in the comments and I will dye (some) of my hair pink!

Lucy Ryan
I think I will look fabulous with pink hair, don't you? Come on and donate to see my new look!

Charlotte Noring
Supporting my mother and ESCA CancerSupport together on the same day is a bonus. Perhaps I will colour (some) of my hair pink if enough money is raise? Donate away!

Beverly Sriruttan
I have travelled the world and tried many things but have yet to turn my hair pink! Donate and note my name in the comments and watch me transform.

Libby Young
Jet setting around the world looking glamourous, now it's time to dye the hair pink to raise money for cancer. Come on everyone, donate away!
Suzanne Weeks
It's time to raise the colour for fundraising activities. Please donate some money and I shall indeed turn my hair pink for the cause.

Tony Brooks
Mmmmmm, besides playing music, should I colour or shave my beard if being donated enough funds?

Ollie
Violins, base guitar and music are my thing for this fundraiser but can I be convinced to shave or colour something??

Darren Leitch
A true Scotsman ready to cut, shave or colour something….pending how much money I am offered!

Ming Boey
Singing to raise money for cancer, I might just add a touch of pink to the hair too. Come on everyone, donate away for ESCA CancerSupport.

Kamy Lavanchy
UPDATE: She did it! Kamy braved the shave on Thursday 10 September and here's the proof:  VIDEO
Short looks great on me – lets see how I look bald!  Now, here's the catch, you donate – I shave!"

Jane Broere
Going grey at 60? No way, this Sunday I'll be going pink!
Help me raise money for ESCA CS with your donation.
BUBBLES AND SHAVE DAY
CHF 2,755
of
CHF 2,000
raised
Supporting Kamy Lavanchy for shaving her head!
AF
Aurore Firino-martell Freyche
CHF 200
MD
Mark and Brigette De Lay Saalfeld
CHF 100
You are amazing, Jodie! Sending positive energy to you from France
Donations from the Bubbles & Shave Day! Thanks to all.
For Jane, Jodie and all who made the Bubbles & COLOUR Day a huge success! Many thanks to the Defectors for their great music!
All the very best Jodie, great initiative
Bubbles and Shave
Wishing you courage and a speedy recovery Jodie.
For Suzanne's pink streak - it'll look lovely darling!
Gotta go blue on my black hair! But it's still pink on the inside 👍